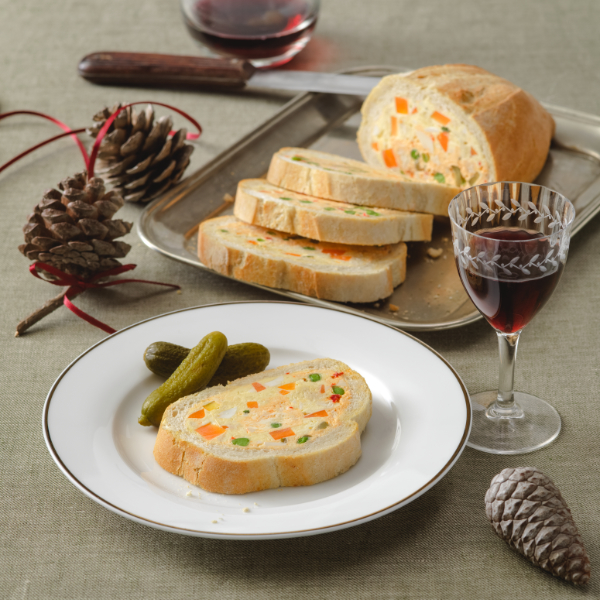 Filled hunter's rolls with WOJNAR'S Tramezzini Spicy and WOJNAR'S egg spread
Shopping List:
A recipe for 4 people
1 roll of white bread
250g softened butter
4 pcs pickles
1 Pkg WOJNAR'S Tramezzini Spicy
1 Pkg WOJNAR'S egg spread
70 g diced carrots
50 g frozen peas
1 tbsp tarragon mustard
100 g grated Emmental cheese
salt from the mill
Black pepper from the mill
Shopping list:
This way it tastes best!
Boil the diced carrots in salted water until soft. When the carrots are soft, add the frozen peas and continue cooking for 30 seconds. While the vegetables are cooking, cut off the ends of the white bread and hollow out the bread. Finely crumble the hollowed-out white bread by hand and place in two separate bowls. Then cream the soft butter and divide between the two bowls with the white bread crumbs. In a bowl, mix the butter and crumb mixture with WOJNAR'S Tramezzini spicy, Emmental cheese, finely chopped gherkins and the cooked peas and diced carrots. In the other bowl, mix the butter and crumb mixture with WOJNAR'S curry egg, tarragon mustard, the boiled diced carrots and the grated Emmental cheese. Season both mixtures with freshly ground salt and pepper. Fill the WOJNAR'S spread mixtures alternately into the white bread, wrap the bun in cling film and place in the fridge for 3 hours. When serving, cut the filled rolls into thicker slices. Serve with small gherkins if you like.